8 golden rules for feeding your fish
8 GOLDEN RULES FOR FEEDING AQUARIUM FISH
It is your dream to have a home aquarium and learn about keeping tropical fish. Feeding your fish properly is essential to creating a balanced aquatic ecosystem. What type of food? How often should I feed? Quantity of food? Hopi Family can guide you in feeding your aquarium inhabitants the right way.
1. CHOOSE A FOOD SUITABLE FOR THE HABITS OF AQUARIUM FISH
Before designing your aquarium, you will have chosen species which go well together in order to create a harmonious aquatic ecosystem where each fish can find its own place.
If you are an aquarium novice, opt for robust species that are easy to look after and feed, such as cichlids. This is a good idea because the world of tropical fish is something you will learn about gradually!
When choosing the type of food for your aquarium fish, it is essential to take into account their habits to make sure that each fish has access to food:
pellet foods fall to the bottom of the tank. These are suitable for fish who are bottom feeders, such as cleaner fish (Stiphodon, Centromochlus and Corydoras) which often feed on leftovers. Pellets are perfect for fish with round mouths, such as blennies;

discs, wafers and crisps are suitable for open water fish such as angelfish;

flakes, which are lighter, tend to float for some time and are therefore suitable for surface-feeding aquarium fish such as guppies.
Aside from the shape and density of the chosen fish food, the composition of the fish food is adapted to the requirements of the main categories: goldfish, tropical fish, pond fish, etc.
Other forms of food exist, such as tablets, sticks, live, dried or frozen food, etc. These are specific foods which depend on the species populating your aquarium and your ability to measure out the rations.
🌴 Are you going on vacation? In your absence, if you don't have anyone who can come and feed your fish, you will need to opt for an automatic dispenser. In this case, we exceptionally recommend that you only use pellet food which is less likely to stick together and block the dispenser mechanism.
2. OFFER YOUR FISH A VARIED DIET FOR OPTIMUM HEALTH
In the wild, fish fall into four dietary categories determining their feeding frequency, based on each species' stomach size:
herbivores with 3 to 4 rations per day;
omnivores with 3 rations per day;
carnivores with 1 or 2 rations per day;
limnivores-detritivores which continuously eat food waste.
Make sure you keep everyone happy at feeding times!
Like cats and dogs, aquarium fish rely on you to offer them a varied and diverse diet comparable to their natural habitat, that also meets their metabolic requirements. You can offer your fish treats now and again, such as vegetables or water fleas.
Some aquarium fish are easily satisfied, like goldfish, and eat anything. Complete aquarium fish foods provide all your aquarium inhabitants' vitamin, mineral and nutrient requirements.
🥒 Do fish eat vegetables? Some species, such as goldfish, are particularly fond of certain types of vegetables poached in boiling water then immersed in cold water, for example, courgettes, cucumber, lettuce and spinach. Take care to remove any leftovers using a net to keep your aquarium clean. These should be fed once a week maximum!
3. FEED AQUARIIUM FISH AT THE RIGHT TIME
Now you have the perfect food for each of your aquarium fish, you will need to dispense the rations at the right time.
Bottom-feeder fish, for example, do not feed every day, which means that excess food may disrupt the biological characteristics of the water. Moreover, nitrate formation causes the proliferation of algae that can be harmful to your fish. Even a good filtration system will not be able to completely clean the water if it is full of food.
The ideal solution is to dispense small quantities morning and evening, or when you are available to distribute the food at the same time each day.
🍽️You should stick to your feeding time: feeding your aquarium fish is a special moment for them. If you have just cleaned the aquarium or switched on the lighting system, wait before feeding. Your fish will need to be calm in order to feed properly until they are satisfied.
4. AVOID OVERFEEDING YOUR FISH, TO KEEP THEM A HEALTHY SIZE
Aquarium fish can become ill if they overeat. Moreover, waste food will contaminate the aquarium.
As a beginner, the ideal solution is to offer a small amount of food at each mealtime, so that practically all flakes or pellets are eaten at each feeding time.
Start with two or three feeding sessions per day, until you find the optimum feeding frequency.
How can you determine whether you are feeding your fish sufficiently often and in the right quantities? Fish feed in 2 minutes and if everything is not eaten in 5 minutes, you should reduce the quantities at the next meal.
Fish become accustomed to their habits quickly and some are more voracious than others. Try to make sure, insofar as possible, that all your fish have access to food. For example, distribute the food at several points of the aquarium.
🐟 Are my fish hungry? Fish are robust creatures. Not eating for one day a week, or even longer, will do them no harm, except for juvenile or elderly fish which need regular food intake. It is better for fish to be hungry than overfed! Follow the recommended doses stated on the fish food packaging.
Hence, when feeding aquarium fish, you should rely on quality over quantity.
Also make sure you store your fish food according to the recommendations stated on the packaging (temperature and humidity conditions, protected from air and light, etc.), including vitamins and treats.
5. TAKE YOUR TIME WHEN FEEDING YOUR AQUARIUM FISH
You have an aquarium because you like fish, and the sense of calm and serenity they convey. Make the most of this by taking your time to feed your fish properly every day: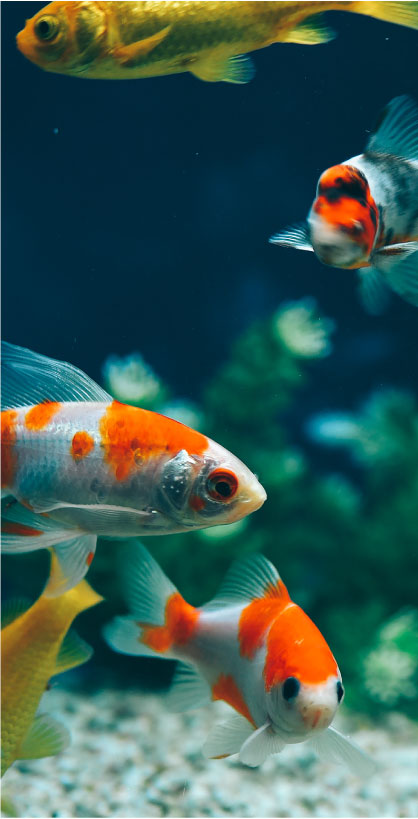 Observe how long it takes for all food to disappear;
Identify the most voracious and the most timid fish;
Make sure that all fish are eating enough, as reluctance to eat can be a sign of disease;
Take even more care when changing food brand;
Admire this aquatic ecosystem which works in harmony with your help.
6. ASSIGN THE TASK OF FEEDING THE FISH TO ONE PERSON ONLY
Ideally, only one person should feed your aquarium fish.
Did you know that fish sense when you are going to feed them, when they hear you arrive? To avoid them being disappointed, and even just to make the most out of this interaction with them, choose one family member to feed your fish every day. A few exceptions are permitted!
When you are absent, things can become complicated, and the best solution is to use:
a food dispenser which is on a timer and dispenses the required quantity as often as necessary. Test the system a few weeks before your departure, to make sure everything is working properly. As you will have noted, if you are only going away for 24 hours, your fish can easily go without food if they are in good health and are not vulnerable in any way;
a food block able to feed the fish for 7 to 15 days. The blocks sink to the bottom of the tank and gradually release food, providing your fish with the appropriate ration.
7. USE THE FILTER TO INDICATE THE RIGHT AMOUNT OF FOOD TO BE DISPENSED
Your aquarium filter provides valuable information on feeding your fish. If you remove it between feeding times and there is no food on it, your fish are eating everything!
If the filter has food on it, reduce the portions so as to avoid hampering the aquarium filtration system.
8. CHOOSE AN AQUARIUM SUITABLE FOR THE HABITS OF ITS INHABITANTS
Although this last piece of advice does not relate to feeding your fish, choosing your aquarium determines the wellbeing of your aquatic pets and, therefore, their appetite.
Are you familiar with the rule for tropical fish which states "1 cm of fish per actual litre of water", i.e. without decorations, plants and accessories?
This calculation applies to small fish, allowing 20 fishes measuring approximately 5 cm (e.g. tetras) to be kept in a 120-litre aquarium.
Opt for a rectangular or square aquarium at least 80 cm in length to allow your aquarium fish to sprint in small bursts, which they love.

The image of the goldfish in its round goldfish bowl should definitely be avoided! This shape is, in fact, unsuitable as it reduces air-water exchanges.
Ready to fill your aquarium and feed your fish with care? Hopi Family is there to guide you in your day-to-day with your pets.